I live an hour and a half away from the nearest Apple Store, so I really value the ability to solve most problems that arise with my Apple products using Apple's great phone support. Apple was the first company in my experience to offer immediate "call back" for product support. Many companies make you fill in long diagnostic forms online and then wait on hold for a tech support agent for over 10 minutes. Apple has a relatively painless pre-call process. As long as you are within the one-year warranty period, or if you have purchased the AppleCare support contract (three years for a Mac), you can quickly select the most convenient option without going through any additional menus:
Talk to Apple support now (provide your phone number and Apple support will call you)
Schedule a Call (at a particular time)
Call Apple Support later (provide your details, call at your convenience, the agent who takes your call will have your info ready)
Chat
Take it in for service (Apple Store or Authorized Service Provider)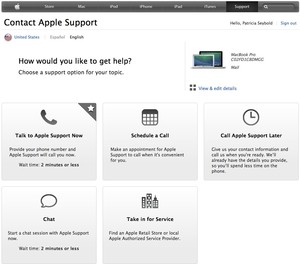 I'm an impatient soul. I always request the "call me right now" option to at least debug the problem I'm having. What always amazes me is how fast Apple calls me back. It's usually within 30 seconds! Barely time to refresh my coffee! The person on the phone is knowledgeable; they have the records about my computer up in front of them; and they can troubleshoot, diagnose, and, usually, fix the problem in a single call.