Last week we joined the media frenzy that seemed to suddenly swirl around the odd digital currency known as Bitcoin. That same day, one of the top Bitcoin exchanges, Mt. Gox, suffered a denial of service attack, sending the value of Bitcoins down as investors began panic selling.
Value of one bitcoin in U.S. dollars one-minute intervals chart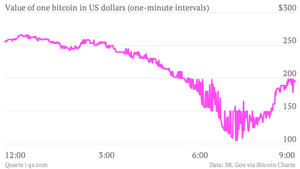 Last night, Mt. Gox was out of commission again. Another denial of service attack? Not at first. Mt. Gox posted a different explanation on its Facebook page:
"First of all we would like to reassure you but no, we were not, last night victim of a DDoS but instead the victim of our own success!

Indeed the rather astonishing amount of new accounts opened in the last few days added to the existing ones, plus the number of trades, made a huge impact on the overall system that started to lag. As expected in such a situation people started to panic, started to sell Bitcoin in mass (Panic Sale) resulting in an increase of trade that ultimately froze the trade engine!