My thoughts and prayers have been with Christina Engelbart over the past couple of weeks because her beloved Dad, Doug Engelbart, passed away on July 2, 2013. Christina and I have a lot in common, and we've stayed in touch over the years. We both are the daughters of visionary revolutionaries in the computer age. We both worked very closely with our respective Dads. Both of our brilliant fathers had Alzheimer's disease in their later years. It's always sad to lose a parent progressively as their mental faculties slip away. It's particularly tragic to lose the minds of such brilliant men to that dread disease. The only consolation is that when they actually die of physical ailments—my Dad in 2004; hers this year, both at the age of 88—you aren't as devastated by grief. The loss already occurred, albeit gradually and sadly.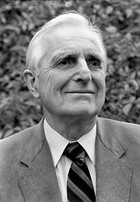 Douglas C. Engelbart
(January 30, 1925 - July 2, 2013)
I had the privilege of sitting at both men's feet. My father, John W. Seybold, revolutionized the electronic printing industry—bringing us electronic newsrooms, electronic hyphenation and justification and pagination, and the precursor to HTML, standardized mark up. Like Doug, my Dad was a visionary—someone who could recruit people into his vision and who actually developed and deployed software and systems to make it possible for people to do things they couldn't have dreamed of before. The idea of writing our own documents electronically and publishing our own content was a glimmer in my Dad's eye when he and another visionary, John Tuohey, designed the first electronic newsroom for US News and Word Report back in 1969, giving birth to the Atex system, which became the stalwart in the newspaper publishing industry.
Continue reading "Learning from Revolutionaries: Doug Engelbart & John Seybold" »