Here's the next installment in the continuing saga involving our rural hospital and physicians' practice at the tip of a peninsula in Boothbay, Maine, that serves a year-round population of 7,000 mostly self-employed people and retirees as well as a 4-month summer population of 21,000. Patients arrive by sea from nearby islands and fishing boats, by air via helicopter, and by land by car or ambulance. To recap briefly, St. Andrews Hospital, and its shorefront tip-of-the peninsula property, was given to the community by a multi-generational doctors' family to maintain a hospital and a nursing school 105 years ago.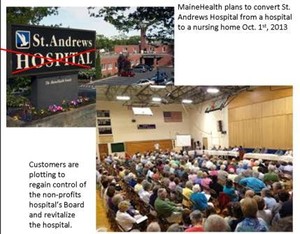 In 1995, St. Andrews was designated a Critical Access Hospital by Medicare and became part of the Maine's rural health strategy to ensure that people in sparsely populated areas had access to critical services—notably 24/7 Emergency services. In 1997, St. Andrews became the first hospital to join an integrated healthcare network with Maine Medical (in Portland, ME), now known as MaineHealth. This worked pretty well until 2007.
The Community Lost Any Say in the Hospital Strategy. In 2007, MaineHealth merged the boards and management teams of St. Andrews with those of another nearby hospital, Miles Memorial in Damariscotta, ME, and formed a third wholly owned subsidiary, Lincoln County Healthcare, whose goal was to achieve economies, improve care, and better serve the people in the region. What went wrong was that, at that point, St. Andrews' Board of Trustees and management were absorbed into a single 3-way Board (Lincoln County Healthcare, Miles Memorial Hospital, and St. Andrews Hospital). This board has 50% employees of Miles Memorial, including 7 physicians. The people on the Boothbay peninsula are no longer adequately represented, and they don't have their own separate board to set strategy for their hospital.
For the ensuing four years, Miles' management began to discontinue all the services provided at St. Andrews and move them to Miles Memorial—a 40-minute commute for patients. A few doctors remain on our peninsula providing local care, but all specialty services, outpatient surgery, and all inpatient hospital care has been removed. The doctors didn't want to be on call in order to admit patients at St. Andrews at night, so they stationed a 24-hr. emergency room doctor there and left him with very little else to do. And they stopped admitting acute care patients. Then, in August, 2012, four years after the merger, Lincoln County Healthcare announced that it was closing the 24/7 emergency room and would replace it with a walk-in daytime clinic, thus losing the Critical Access Hospital designation and the Medicare reimbursement that comes with it.

Customers Became Boiled Frogs. So, this is a typical boiling frog story. Most of the healthcare customers on the peninsula didn't notice what was going on, except that when they needed care, they were directed to go off the peninsula. Many of them opted to go, not to "sister hospital" Miles, but to either of the two larger facilities to the south in Brunswick, Maine. The local services that remained (lab, infusion center, physical therapy) were also more expensive than they would be at facilities off the peninsula. 

So, after four years, this "merged management team and Board" idea has proved a failure—for MaineHealth because it lost marketshare, for Miles Memorial because it was unable to attract and retain Boothbay region patients, and for St. Andrews because now a 105-year old hospital is being shut down, and for the customers and community members because they now no longer have access to local services nor to needed 24-hour emergency care.
And the economic impact is severe. It is costing the taxpayers on the Boothbay peninsula $400,000/year in increased taxes to support an expanded ambulance service, as well as loss of jobs, and loss of income to the hospital from Medicare reimbursements, for a total annual loss of $3.5 million. Real estate values of properties on the peninsula are also dropping with the loss of the hospital. Since the value of the real estate in the area served by St. Andrews is $2.5 billion, each 1% drop in real estate value is a loss of $25 million.
Customers Are Waking Up! The combination of the loss of services and the economic impact of this decision has made people angry. We took action. The four affected towns formed a Task Force to Save St. Andrews. Four selectmen—one from each town—and a group of about 60 volunteers has been meeting every week since August, 2012, when the announcement was made. (Those meetings are broadcast on the local community cable TV and on the Internet, and watched avidly by several thousand people each week.) The local newspaper runs stories about this David and Goliath battle every week. There are letters to the editor protesting the decision every week. We raised money and hired a lawyer who produced a brilliant legal position paper. I interviewed 50 year-round and seasonal residents about their healthcare needs and the services required, and a fellow volunteer who is a medical sociologist analyzed and summarized those findings. We hired a healthcare consultancy to review the data used to make the decision to close the hospital and found it flawed and inadequate. The due diligence behind the decision to close the hospital did not do a deep dive into the needs and requirements of the people in the area served by St. Andrews. So we, the customers, have done our homework and we've educated the community.
Meeting with the Attorney General. As Jane Good, the proprietor of a local beauty parlor said, "We're not just going to stitch and bitch, we're taking action." Jane organized a letter-writing campaign the Maine Attorney General and hand-delivered 400 letters collected in just 2 weeks to the AG herself. We expect to flood the AG's mailbox with thousands of letters from year round and seasonal residents and their families. Janet Mills, Maine's Attorney General and one of the Assistant AGs spent over an hour this week with a delegation from the community. We've had petitions at the polling places in the fall that were signed by over 2,000 voters. The question about whether or not to close St. Andrews is on the ballot for the Town Meetings that will take place this Spring in each of the four affected towns.
Informed Customers Are Powerful! A group of eight of us volunteers has spent four months visiting and talking with the management teams of 10 other Critical Access Hospitals in rural Maine, educating ourselves on how to run a viable rural Critical Access Hospital. Now we're taking the best practices we've collected from these other hospitals and educating everyone in the community about how creative small, rural hospitals can be and how profitable they can become with the right mix of services and community support.
Next Step: Co-Design the Health and Wellness Services We Need. One of our next steps as a group of active, involved customers, will be to take the best practices we've gleaned from other small, rural hospitals and use them to help design the strategy for the healthcare we want and need on our peninsula.
What Is MaineHealth Doing? We've won a temporary delay. The hospital was planned to be closed April 1st. The date has been moved to October 1st. MaineHealth and Lincoln County Healthcare are trying to convince everyone that the closure is inevitable, necessary, and that their decision won't be reversed. They are planning to turn the current hospital into a nursing home and a daytime walk-in clinic. We (their customers) are not going to settle for that.

What Do the Customers Want? Most of the healthcare consumers on our peninsula are now coming to realize that we have to wrest back control of our own destiny, either by extricating ourselves from MaineHealth, or at least by eliminating the shared board/shared management team structure of Lincoln County Healthcare that has an inherent conflict of interest. So our current plan is to regain control of the Board of Trustees of our non-profit corporation, which is chartered by the State of Maine as a Hospital. Once we regain control, we know exactly what services we need to re-institute and what new ones we need. We'll keep you posted! We hope to make history by a customer takeover of a hospital board.
Links for more information can be found here: Save St. Andrews Hospital—all of the reports mentioned here, including the letter to the Maine Attorney General which you can sign and send in, are on the right-hand side.