This week, DuckDuckGo launched its iPhone app, DuckDuckGo Search and Stories. Now you can enjoy the same anonymous, non-trackable, non-invasive, clutter-free search experience on your iPhone, Android, or Windows phone that many of us now use as our default Web search engine.
DuckDuckGo's Private Search: Now Available for Mobile Phones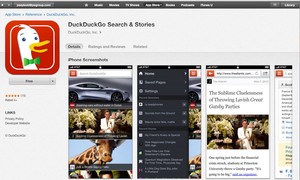 I'm not as impressed with the "stories" part of DuckDuckGo's offering. (The home page shows you the most popular news stories.) But I love the search. It takes advantage of two capabilities I've come to value using DuckDuckGo: instant answers and !bang searches tightly integrated into my favorite sites.
Instant answers are a feature unique to DuckDuckGo's search engine. About half the time I do a DDG search, the top hit will be an "instant answer." This is typically a search result from a crowdsourced site like Wikipedia or TravelAnswers or Ask Ubuntu. So, when you start typing a search term using DuckDuckGo, the chances are good that it will return what you want really quickly—even before you've completed your search phrase—and it will likely have the answer you're seeking.
DuckDuckGo's Instant Answers Make Mobile Search Quick and Rewarding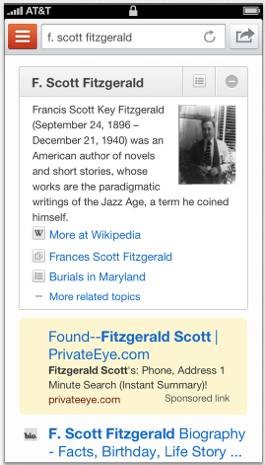 Many search engines let you preface a search with an "!" or "bang." That tells the search engine which particular site you want to search (without navigating to that site first). But DuckDuckGo's open source platform also makes it easy for users to tightly integrate search on hundreds of sites using the "!bang syntax." So, for example, when you download the iPhone app, you'll see a list of suggested !bang searches: "!a" will find anything on Amazon, "!bi" is a shortcut to search Bing Images; "!m" gets you right to Google maps. Personally, I love this approach to searching on a specific site. I don't have to go find the icon. I just type in the shorthand single letter code followed by my search string. (By the way, this is a capability that Actioneer has been offering for many years—but they also combine safe login for any site, like Amazon, when you may want to take an action, like buy the book you just looked up.)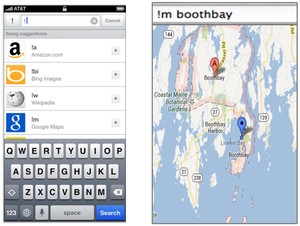 But the best thing of all about DuckDuckGo's search is that it's completely private. Your searches aren't logged and passed onto marketers, and they can't be subpoenaed by a government agency, because DuckDuckGo doesn't identify you, or your cell phone number, or IP address with your search. They don't track you. Period.
I've spent a bit of time this week looking under the covers at DuckDuckGo. What I like the most about this search engine, apart from its privacy—which is a HUGE benefit of using it—is the fact that it's an open and extensible ecosystem and is constantly being improved by its users. Here's my review.
~ Patty
DuckDuckGo Respects Our Privacy
Fast, Simple Search with an Open Customer-Friendly Ecosystem
By Patricia B. Seybold, CEO & Sr. Consultant, Patricia Seybold Group, June 28, 2013