Both consumer and business customers rely heavily on Web self-service channels when they have a problem. Recent surveys of customers engaged in self-service activities have surfaced some interesting results.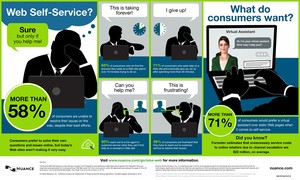 Here are a few of the highlights:
Many customers have more than 11 different logins and passwords.
Many customers change these frequently.
Yet many other customers use the same ones for all their accounts.
Customers will spend between 10 and 30 minutes trying to solve a problem or answer a question using self-service tools before they'll call a person for help.
Many customer service emails are not answered at all or take days to get an answer.
10% of Twitter queries are answered within an hour.
Two-thirds of U.S. consumers have made a complaint in the last 3 years. Most people make six complaints per year and spend over an hour resolving each one.
Two-thirds of U.S. consumers have had to repeat their "stories" over and over again when trying to solve a problem with customer service via the phone.
What's the bottom line? Customers want to use self-service tools. Don't make them log in to use them. Provide virtual assistants and other streamlined tools to help customers solve their problems. Don't EVER ask a customer to repeat his/her story!
Read Mitch Kramer's summary of recent customer service surveys:
Patterns from Customer Service Suppliers' VOC
Customer Survey Results from KANA and Nuance about Customer Service Experiences
By Mitch Kramer, Senior Consultant, Patricia Seybold Group, March 14, 2014