I haven't gotten my hands on the new Amazon Fire Phone yet, so I can't really comment on its most dramatic feature: what Jeff Bezos refers to as "Dynamic Perspective" – the 3D effect of its unique user interface. But, without the benefit of first hand experience, I tend to agree with Sean Madden of Wired, whose excellent post, "Amazon's Fire Phone May Be Too Magical for Its Own Good," talks about the trade-off between magical and practical UI features. Sean points out that, while "magical" works for seldom-used features, it becomes annoying when applied to things you need to do all the time.
"The ideal balance is one that Apple, Samsung, and Google have all zeroed in on after much trial and error: confine the "magic" to occasional interactions and celebrated results, and get the obstacles out of the way for frequently used ones with clear goals."

~ Sean Madden, Executive Managing Director of Client Experience at Ziba Design
Here's Sean's sketch of why the lower left quadrant works best for frequent and practical actions: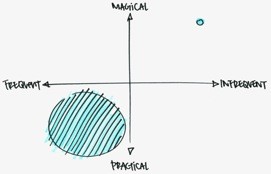 Very few "magical" features happen infrequently enough not to frustrate. Most user interactions must be practical and quick above all.

Sean Madden
So, will 3D maps on the Fire Phone become addictive or annoying? Will users gravitate towards apps that use the 3D perspective, or shun them?
My son, Jesse Breuer, who is a Web developer, pointed me to what is probably the origin of Jeff Bezos' fascination with providing a 3D experience on a flat screen through the use of infrared sensors. It looks as if his inspiration came from a YouTube video posted by hacker Johnny Chung Lee on December 21st, 2007, who demonstrates that, by reversing the position of the sensors on the Nintendo Wii, you could track the position of peoples' heads relative to a flat screen display and present images that move based on their perspective. Michael Morisy connects the dots between that early video and Amazon's Lab 126 offices in Cambridge, MA, through Brad Stone, who authored The Everything Store, a fascinating biography of Jeff Bezos. According to Brad Stone:
"The smartphone project has been one of the longest in development at Lab126. Interviews with multiple Lab126 employees over the course of many months—all conducted with promises of anonymity because Amazon fiercely guards such information—suggest that the phone project was started as far back as 2009. One of the inspirations was this famous video by hacker Johnny Chung Lee, now an employee of Google…"
What's Next from Amazon on the SmartPhone Front?
Michael Morisy provides some clues, based on the current hiring patterns at Lab 126 in Cambridge, MA:
"A peak at current local Lab126′ers shows mobile and embedded expertise, but also a whole new area the company seems primed to enter, based on staff: Medical tech. Paging Dr. Bezos?"

~ Michael Morisy, BetaBoston blog
Health & Fitness. I believe that health and fitness will be the killer apps for smartphones. It's the thing that actually matters most to customers in their lives. When you look at a smartphone as a controller for a customer ecosystem, health and fitness is going to be one of the first customer-critical activities we'll want our customer-centric ecosystems to optimize. Apple is getting there first, with its new emphasis on iHealth, but Amazon won't be far behind.
Mobile E-Wallet? I was disappointed not to see any signs that Amazon is ready to enable its Fire Phone users to "Pay with Amazon" at the Point of Sale in retail stores. Once I'm using my Fire Phone to purchase most of the things I need, and I'm able to pay using my securely stored payment mechanisms and trusted authentication with Amazon, I'd like to Pay with Amazon at the grocery store. Of course, that would mean that retailers and credit card providers would be willing to accept Amazon as a toll-taking middleman, which is highly unlikely. However, if consumers keep asking: "Can I Pay with Amazon?," who knows?
The Fire Phone Will Expand Amazon's Customer Ecosystem
So here's my initial take on the Amazon Smartphone. For me, its two most important features are Mayday and Firefly. Mayday provides 24x7 real-time customer service with screen sharing and video chat. Firefly lets customers capture and identify hundreds of millions of physical and digital objects they care about and take actions on those objects. Imagine the customer activities we could transform and simplify? Achieve your ideal weight? Manage a chronic disease? Optimize your child's education? Train your dog? Manage your cash flow and achieve your financial goals?
Will Customers Trust the Details of Their Lives to Amazon?
Amazon U.S. Prime members—the target customers for this phone—are those most likely to be willing to trust Amazon with detailed information about their lives, because they already do. And, maybe, if U.S. law enforcement can no longer access our mobile phone data (on the phone or in the cloud) without a warrant, we'll be able to sleep at night.
How Amazon's Fire Phone Enhances Its Customer Ecosystem
How Amazon's Fire Phone Enhances Its Customer Ecosystem
By Patricia B. Seybold, CEO, The Patricia Seybold Group, June 27, 2014
If you would like to receive our weekly customers.com emails, click here.