If you haven't heard of CaringBridge.org, you should know about it. Eventually you, or someone in your family, will be dealing with a major health issue. CaringBridge provides the support infrastructure to deal with one of the most important, highly emotional, and time-consuming activities that a care-giving family has to deal with: keeping everyone in the loop. Email and/or Facebook work, but they're not ideal for keeping everyone informed about the latest updates on someone's battle with cancer, or the prognosis of someone who has just been in a horrific accident.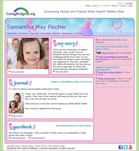 There are probably newer, spiffier e-tools available. But CaringBridge has something none of the upstarts have: 17 years of experience helping families deal with their health journeys. One of the things that I have learned from working with true Pioneers, is that when you devote ten+ years to understanding and addressing a customer-critical activity—whether that customer's activity is designing an energy-efficient mobile phone, or managing IT resources, or dealing with a family's health crisis—your understanding and experience trump all challengers. You deeply understand what the customer's context is, what they're trying to accomplish and what's important to them as they do it. You don't get distracted by side journeys because you are grounded in solving a real problem for real people: helping them get something done as easily as possible.
When you are fanatically-focused on streamlining and supporting an activity that is critical to a large group of customers, people, patients, or end-users, you gain momentum by word of mouth. People tell others. They recruit new customers for you. They discover the community of other customers who are using your tools. They let you know what else they need and want.
You attract partners—in CaringBridge's case, hospitals, other healthcare nonprofits, and organizations that are supporting the same customer scenario. This organic, almost magnetic, attraction of a community of customers who are trying to deal with the same activity, along with supporting players whose role is to help or to be support that activity—that's a customer ecosystem.
CaringBridge seems to me to be an almost perfect example. What's not perfect? Well, perhaps they err too much on the relentless marketing side. Having signed up to create a site for a family member, now, every time I'm online, CaringBridge is in my face telling me to come back. That's really not necessary. When you have a health crisis, you don't need to be reminded about it. If you're not in crisis, but just planning ahead for the eventual demise of an aging loved one, you don't need to be pestered.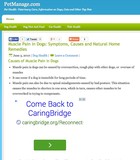 While researching solutions for my dog's lameness, I get a reminder to "come back to CaringBridge" -- That's not appropriate!
But take a look: a nonprofit that is providing valuable service to 500,000 people a day and survives on donations alone, is pretty impressive! That's a successful customer ecosystem.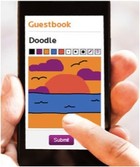 Families and friends use CaringBridge.org's mobile app, social media outreach, and website tools to provide emotional support during a family's health crisis. Each patient has a journal for providing updates (by the patient or family member) and a guest book where friends, family, colleagues and new friends can track the patient's progress and lend support. CaringBridge is a great example of a "Customer Ecosystem" – a network comprised of individuals and organizations all of whom are focused on one thing: helping a patient get better and a family heal.
CaringBridge is a customer ecosystem that has evolved organically to support a critical customer scenario: Someone I love is very sick and I need to keep my friends and family up-to-date. So, it started in 1997 as a simple website that patients' families could use to post updates to notify family members and friends.
Over its 17 years, CaringBridge has grown in size (500,000 daily visitors, 75,000 new patient sites created last year, and 2.25 million new registered users in 2013) and in scope. And, it has attracted 46 million consumers and thousands of hospitals, clinics, and healthcare non-profits as sponsors and affiliates. But CaringBridge remains focused on its original mission: supporting families who are in the midst of a health crisis.