PayPal will be spun out of eBay in 2015. That's welcome news for those of us who follow the mobile e-wallet space. Despite its strong presence as a payment service provider, PayPal's strategy has been hindered by its relationship with eBay. An independent PayPal will be able to move more quickly and to partner with players that eBay might not be comfortable with.
Jay Yarow at Business Insider provides useful context in his post, entitled "PayPal No Longer Needs eBay." Here's a useful chart showing the shift in their relationship, courtesy of Business Insider: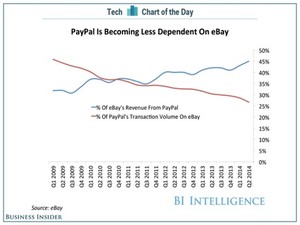 Note that almost half of eBay's $16 billion in revenues now come from PayPal. Yet, PayPal transactions account for a declining percentage of eBay's total transactions. Jay Yarow writes:
"So, why is PayPal going solo now? There's a bunch of reasons — pressure from Icahn, pressure to hire people, competition with Apple, and other startups in the payment space. Being a standalone company makes recruiting easier. It also focuses PayPal on payments.

This chart gives another reason — PayPal doesn't need eBay anymore."

~ Jay Yarow, Business Insider
Pundits have been arguing about why Apple did not include PayPal as an Apple Pay preferred provider and whether that loss precipitated the break up between eBay and PayPal.
Here's an excerpt from an a post entitled "The Real Reason PayPal Isn't an Apple Pay Preferred Provider" in Bank Innovation: 
"Apple and PayPal started talking early on in Apple's development of Apple Pay, as Apple was setting up partnerships with the card-issuing banks and card networks. Since PayPal's a payments industry leader, it would have been shortsighted for Apple to not reach out to PayPal.

But while these talks were going on, PayPal went ahead and partnered with Samsung on the Galaxy S5 fingerprint scanner, a move that was reportedly forced onto PayPal by eBay CEO John Donahoe. PayPal's now-former president David Marcus was purportedly categorically against the Samsung deal, knowing that it would jeopardize PayPal's relationship with Apple. Donahoe won the day, however.

Apple was said to be absolutely furious that PayPal did the deal with Samsung, which led Apple to cut PayPal out of the Apple Pay process entirely. (One source said: "Apple kicked them out of the door.") This dust up with Apple was a big reason that David Marcus ended up leaving PayPal for Facebook.

Bank Innovation has learned further information that PayPal wasn't included in Apple Pay at the request of the card issuers and card networks. Sources within PayPal say that the card issuers and networks asked Apple Pay to not partner with PayPal — which Apple was happy to oblige…"
The CEO of the new PayPal will be Daniel Schulman, an executive recently recruited from American Express, who led that company's mobile and online payment services strategy. John Donahoe will be stepping down and will be replaced as eBay's CEO by Devin Wenig, who currently runs eBay's Marketplace business.