As customers, we experience digital transformation all the time—perhaps almost every day. In the past decade alone, the ways we consume music, movies, photography, news, retail, and travel have changed utterly. We are on the cusp of similar transformation of transportation and manufacturing, with the advent of onboard computers in cars, driverless cars, and 3D printing. And digital transformation won't stop there, either.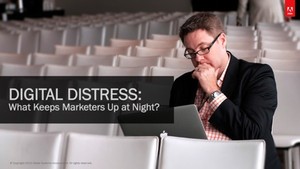 Companies who ignore disruption of their industries will not be successful, and ultimately won't survive.
Digital marketing is a microcosm of digital transformation that is well underway in all industries. Digital transformation of marketing means that customer interactions with a brand create rich relationships that are tracked, optimized, and enhanced throughout the customer lifecycle, and customer experience has a coherent strategy and continual measurement. The lines between marketing, sales, and fulfillment have blurred.
Customers flock to the brands that deliver an engaging and useful experience. Not surprisingly, 82 percent of marketers in a recent survey conducted by Adobe cited their greatest concern as reaching those customers
1
. In the same survey, 68 percent of marketers said they think companies won't succeed unless they have a digital marketing approach.
Leaders in the digital transformation were on average 26 percent more profitable and had a 12 percent greater market capitalization, according to an MIT Sloan study2.
Just the Beginning!
Digital transformation is entering its third decade, forever changing business models, customer experience, services, and operations for all industries. You may not be thinking in terms of digital transformation for your company, but you are likely pondering how and when to refresh your digital face or your digital heart in order to respond to customer expectations, competitive pressures, and employee innovation.
Over the past two decades, software and data innovations have disrupted whole industries: music, cinema, photography, news, magazines, retail, and travel. This is just the beginning for digital transformation. In the coming decades we will see driverless vehicles disrupt trucking, taxi, bus, and delivery markets—perhaps even leading to a precipitous drop in vehicles on the road. Three-dimensional (3-D) printing has the potential to disrupt manufacturing and its supporting industries, including shipping, supply chain services, equipment, and more.
In marketing, digital transformation has been underway in every industry for some years—with much left to be done. Just as a company cannot succeed in holding back the tide of disruption, so marketing cannot succeed by ignoring digital transformation. In an MIT Center for Digital Business study, 70 percent of executives reported pressure to transform from customers and competitors.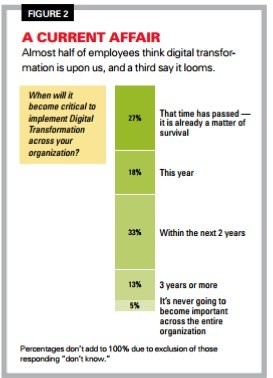 From "Embracing Digital Technology," MIT Sloan Management Review
The digital transformation of marketing is not just marketing via digital channels, but marketing to a digital world. It is not only engaging customers throughout the lifecycle, and across channels and devices, but also generating, gathering, and using customer and interaction data to create the customer experience that will deepen customers' relationships with your brands.
Stay Tuned for Case Studies
Over the next few months, we will publish case studies of leaders in digital transformation that demonstrate how an integrated platform, skilled people, and mature optimization capabilities are the keys to success.
These leaders in digital transformation foster a culture of experimentation, customer experience management supported by mature optimization programs, and measurements relevant to their goals. Customers and expectations change rapidly, and the leaders who are successful have an integrated platform that enables them to personalize customer interactions and measure success by managing, delivering, and tracking content across channels and devices.
There is no holding back this tide. You can jump in now or linger on the deck, but ultimately, you'll have to get your feet wet. Just as it's a rare company that is successful without a web site today, it will be a rare company that is successful without digital marketing tomorrow. Stay tuned!
Note from the editor: Sue Aldrich's look at Digital Transformation is reprinted here (with minor updates) with permission from research commissioned by Adobe Systems, Inc.
***Endnotes***
1) http://blogs.adobe.com/conversations/2013/09/digital-distress-what-keeps-marketers-up-at-night.html
2) http://www.capgemini.com/resource-file-access/resource/pdf/embracing_digital_technology_a_new_strategic_imperative.pdf