I have a young friend on the ground in Katmandhu, Alex Ulin. Thanks to social media, her friends and family have been able to stay in touch with her.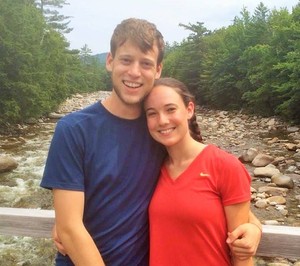 Max Silverman and Alex Ulin in Maine, just before their trip to Nepal
Alex Ulin and Max Silverman arrived in Katmandhu a few days before the earthquake hit. Luckily, they were not injured in the quake, and, like many Westerners who happen to be there, they immediately began helping out.
Alex was scheduled to begin work as an Intern at the Womens Foundation in Nepal working in an orphanage. Here's a report from her boyfriend, Max's Facebook page:
"Friends and family: much of the money flowing to Nepal right now (in good faith) will not make it where it needs to go. This is a devastating consequence of a Nepal where aid (like 'development') is often rooted in the colonialism and corruption that dominates political spheres.

To those who have been searching for ways to (truly) support the millions affected by this devastating tragedy, I'd strongly urge you to think about donating to the Women's Foundation of Nepal. WFN is a small, well-established Nepali-led organization I've been working with closely throughout the past months and days. They do some of the most fantastic, admirable, and humble work I have seen in this country, and are currently stretched as thin as you can imagine trying to support and shelter as many as they can. Food, water, and shelter are becoming increasingly hard to come by here in Kathmandu, and I can promise you that until they are out of options themselves, they will not stop providing support to all they can.

Here's a link for Donations directly to the Womens' Foundation of Nepal's Earthquake Relief Fund.


Regardless, any money donated will be invaluable for the WFN to rebuild and support their communities in the coming weeks and months and years, and online donations will be put to good use regardless. UNFORTUNATELY, like electricity, financial institutions and WiFi will be inaccessible for at least a few more days here, and money given online might not be accessible for immediate aid. I promise that, as an alternative, if you pledge to reimburse me I will personally take money out of my bank account (as soon as I locate a still- functioning ATM, bank, or way to borrow) and will hand-deliver cash to the foundation in Boudha. Shoot me a Facebook message with the amount and I'll take your word for it - ill set off first thing tomorrow and keep you posted with my progress.

Lots of love, and I appreciate all of the support from everyone the last few hellish days. The worst is yet to come for the people of much of nepal - please don't let this get swept away in the span of one short news cycle. My apologies if I haven't been able to respond to you personally. Alex and I are safe, unlike many others."
I was delighted to be able to get quick news about the safety of these two young adults. And also happy to have the link to a trusted Nepali organization that is on the ground!