On May 15th 2015, we wrote about the fact that Malaysia Airlines had just rolled out a new social marketing platform when disaster struck twice: two major airline disasters within four months.
Given the arrival of a new "turnaround" CEO and major restructuring at the government-owned airline, we wondered out loud whether it would be better to keep the MAS Malaysia Airlines brand that had weathered these or to rebrand entirely?
Thanks to all of you who participated in our straw poll via survey (and the survey is still open, if you haven't yet weighed in). Of the people who took the time to vote -- all of you are "customer-centric execs" with an average of 15 years of experience in marketing, customer experience, or customer-impacting technologies -- a whopping 75% of you said you thought that Malaysia Airlines should preserve its brand, despite the shadow of fear that still surrounds it.
Here are your votes: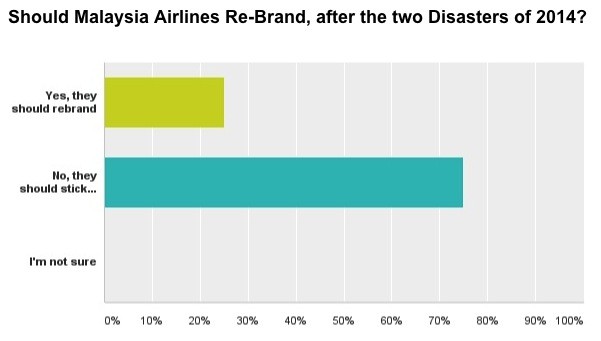 As you can see, your collective advice is quite clear: Malaysia Airlines should retain its brand image.
Useful Insights
Here are some of the more interesting comments some of you entered in response to the question: "Why did you vote that way?"
Why some think Malaysia Airlines SHOULD ReBrand?
Although in the minority, there were some thoughtful votes for starting with a new brand. One PRO Rebranding Exec said:
"The brand does not instill faith in safety or compliance, regardless of the factors behind last year's two incidents. The #staystrong reinforces their troubles and keeps it top of mind."

Another Pro-Rebranding exec alluded to the comments made by the current SVP of Marketing, Dean Dacko... to wit: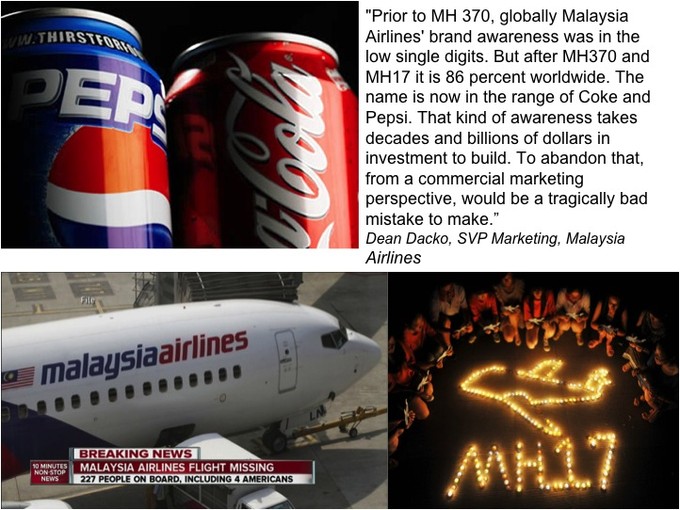 He countered:
"Coke and Pepsi aren't known for negative events."
Why Most of You Think they Shouldn't ReBrand
"They should only rebrand if they are not able to go by the company promise "#fly high" and "#stay strong". It is an enviable position to let the world know those claims are not empty words. Do not let go of this opportunity!!"
"Everyone who flies with MAS knows Malaysia Airlines. (Including me)."
"It may be a tough slog, but it emphasizes the resiliency of the Malaysian people."
"In the end nothing changes. It will always remain the national airline of Malaysia."
"The events that happened last year were a true tragedy. In my opinion MA did not walk away from its responsibillity, and was modest enough to ask for help from the authorities. The event had nothing to do with bad operations. Negative feedback from individuals who have tried to influence public opinion are the cause of all the negativity that is bothering your company. I personally have experienced this, not to the extent you have. Keep your heads up and see the phoenix rise again!"
"Think about the value of the brand internally and externally to customers and stakeholders such as Malaysians. Be careful not to measure brand too far outside your target audience."
"Unfortunately there will be air disasters in the future - would this mean that every airline rebrands?"
"People always respect and value the message of a successful turnaround story, especially if it restates and rebuilds core values, and significant difficulties are seen to be overcome. Changing the name is like running away or distancing yourself from your original core values."
"Malaysia Airlines has strong brand recognition. They provided strong support for the victims. It's a rare case of a company doing the right thing for the right (moral) reasons. It's a great customer-centric storyline!"
"It's a strong brand; one of the best airlines there is. Be transparent and come out of this crisis stronger!"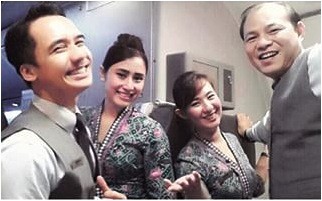 Thanks for your comments and thoughts, please keep them coming!