There's a "new" smartphone that's gaining rapid marketshare and challenging Apple's global brand primacy: Xiaomi's ((pronounced Show-em) Mi. The privately-held Chinese manufacturer of Android-based smartphones and other electronics reported sales of 34.7 million smartphones in the first half of 2015, 33% more than for the same period last year. The company's goal is 100 million for the year.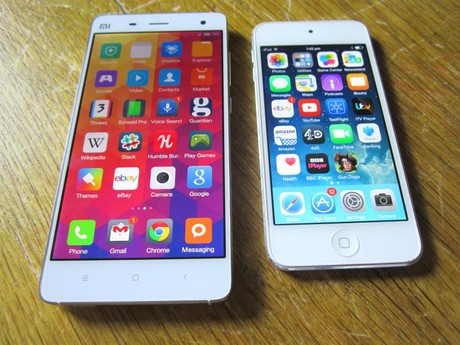 As you can see from the photo, the Mi Note 4 is larger than the iPhone 6. It is an Android phone with a high resolution camera.
Apple's Prospects in China Dim
In a recent Mauldin Economics article, entitled "Xiaomi: the Apple iPhone Killer?"  Tony Sagami alerts us that Apple's growth strategy, which included expansion in China, appears to be doomed, thanks, in large part to Xiaomi's  Mi Note phone.
"The iPhone has fallen to third place with 10.9% of the market, closely followed by Samsung.

Third place is bad enough, but China, which was supposed to power Apple's growth going forward, is now a drag for Apple: China sales plunged by 21% in the second quarter from Q1.

By comparison, Huawei's sales surged 48% over the prior quarter."

Tony Sagami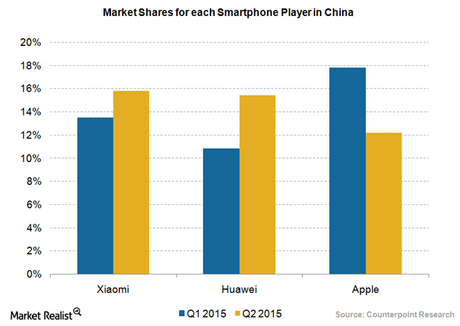 Why is this an issue? If Apple loses marketshare and mindshare in China and in the rest of Asia, the brand will become primarily a U.S. and European brand. That's not what Apple (and its shareholders) are hoping for. Here's part of Sagami's analysis:
"Look, the iPhone accounts for 70% of Apple's total revenues, and the Chinese weakness is trouble because China passed the US as Apple's biggest iPhone market in the first quarter of this year. Today, China is the world's largest smartphone market, and Apple isn't doing well there.

Heck, even CEO Tim Cook has acknowledged that China is creating 'speed bumps' for Apple."

Tony Sagami, Mauldin Economics
Fierce Brand Loyalty is not Limited to Apple
Apparently, Xiaomi also has a thing or two to teach Apple about customer loyalty. Chinese Mi Note users are fiercely loyal to the Mi brand. Again, quoting from Tony Sagami's article:
"Chinese consumers are crazy about Xiaomi. Really crazy!
They call themselves "Mi-fans." They have fan clubs and a "Mi-Fan Day" on April 6, when tens of thousands of Chinese travel all across China to attend new product launches. The crowds are so large—as many as 170,000—that security is required for crowd control.
At the April 2015 Xiaomi festival, the company sold over 2 million smartphones and pulled in 2.08 billion yuan (US$335 million) in just 12 hours.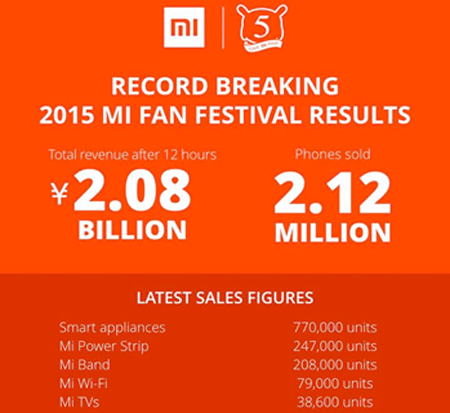 "
 Is Xiaomi Enthusiasm a Passing Fad?
Apparently not. If you look at the statistics in the chart above, you'll see that Xiaomi had sold 1.34 million additional connected devices in Q1 2015. In an article entitled: "1.34 million reasons why Xiaomi is More than Just a Smartphone Company," Sambit Satpathy wrote in April, 2015 in describing the results of one day of sales at the Mi Festival:
"In addition to 2.12 million smartphones, Xiaomi also sold 403,000 Mi Power Banks, 336,000 Mi headphones, and 37,000 Mi Selfie Sticks. While impressive, it is the other numbers that have caught our attention. Hugo Barra also revealed that the company had sold a total of 1.34 million connected devices. These included 770,000 smart appliances, 208,000 Mi Bands, 79,000 Mi Wi-Fi, 38,600 Mi TVs, and 31,000 Mi Air Purifiers, and 247,000 and 45,000 units of the recently launched Mi Power Strips, Mi Smart Scales respectively.

For a company known for its smartphones boasting segment-leading specifications and an aggressive price tag, Xiaomi has recently increasingly focused on connected devices. It has been open about its ambition for an ecosystem of connected devices, and in addition to the aforementioned products, it is also believed to be working on a smart water purifier, and "smart" running shoes that will connect to your smartphone.

Xiaomi had recently also invested over $200 million in Midea, a Chinese home appliance maker with a portfolio including air conditioners, refrigerators and kitchen appliances. The latter also shares Xiaomi's vision of a smart home and is said to be investing over $2 billion in IoT in the next three years."

Sambit Satpathy, BGR India
It sounds to us as if Apple has a lot to fear in trying to sell its vision of the Internet of Things into the Chinese market against this rapidly rising star.