When I wrote about the Globe's amazing coverage of the Boston Marathon bombing, I was really impressed with the reporting, but also with the editorial team's use of social media to help them in their round the clock coverage. The Globe used social media to correct misinformation, to gather tips from citizen journalists, and to communicate in real time with the millions of concerned people around the globe. See: Boston Globe Masters Social Media in a Crisis.
At that time, the newspaper was for sale, and had been for some times. The New York Times had bought the Globe from the family who had owned it for a long time. But the Times wasn't willing or able to invest to keep this amazing and innovative team going.
One of the things that the Globe has going for it--more than many other papers--is the fanaticism of its local sports fans -- as well as those of us who no longer live in Boston, but are scattered all over the Globe.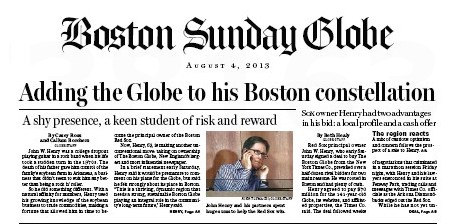 After writing that case study, I started thinking about the best buyers for the Boston Globe. In my blog post, "Who Should Buy the Boston Globe?", all of my top candidates were local and passionate about Boston culture and would be equally passionate about preserving and amplifying the quality of the Globe's journalism. John Henry, the owner of the Boston Red Sox, was one of my top choices back in April. I'm SO glad that he stepped up to the plate. I believe this is both an emotional and a sound economic investment.
Today's metropolitan newspapers have a real challenge in finding a business model that keeps them profitable. But the Globe's current editorial team and local managers have shown themselves to be truly innovative, scrappy, and hard-working. They are an amazing team. And now they'll be run by an executive team that knows how to nurture talent.