My favorite business model—and the one I believe is gradually becoming more pervasive—is a customer ecosystem. It's a business network of suppliers, partners, regulators, who are all aligned to help customers meet their outcomes in the easiest, most cost effective manner. It's not top down. It's not bottom up. It's inside out or outside in. It starts with the customers, with what they care about, with what they want to get done, at the core. All of the players in the ecosystem align to help those customers reach their desired outcomes with the most grace and ease.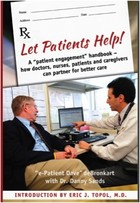 Our healthcare industry is a far cry from being a true customer ecosystem. Today, particularly in the U.S., healthcare is a field of land mines that patients and their families have to detect, dodge, and jump over in order to get and stay healthy.
Yet, all over the country, and around the world, patients and their families are taking more control over their own health. They are demanding to see their medical records and to keep them accurate. They are doing their own research online about conditions and treatments. And, most of all, they are banding together in online communities to support each another, and to share their experiences and their learnings with one another, in order to help the next patient/family with a particular condition have a better outcome and experience.
Continue reading "Must Read: E-Patient Dave's Book on Patient Engagement" »