When I read that Jeff Bezos had bought the venerable Washington Post newspaper from the Graham family in the same week that John Henry, owner of the Red Sox, bought the Boston Globe, it definitely got my attention.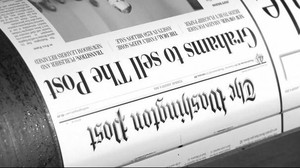 © 2013: The Washington Post
I could (and probably should) write about how Bezos' instincts for interactive marketing and content delivery will help the Post continue its evolution into the digital age. But I won't. What interests me more about this particular acquisition is the possibility of Bezos taking on our broken political processes by owning the ink in D.C. If Jeff Bezos had bought a newspaper in Seattle, I would have considered it the act of a patron of journalism. But I'm hoping that there's more to it than that.