This week, DuckDuckGo launched its iPhone app, DuckDuckGo Search and Stories. Now you can enjoy the same anonymous, non-trackable, non-invasive, clutter-free search experience on your iPhone, Android, or Windows phone that many of us now use as our default Web search engine.
DuckDuckGo's Private Search: Now Available for Mobile Phones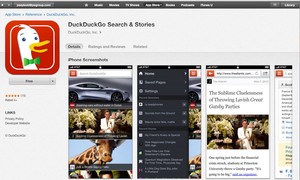 I'm not as impressed with the "stories" part of DuckDuckGo's offering. (The home page shows you the most popular news stories.) But I love the search. It takes advantage of two capabilities I've come to value using DuckDuckGo: instant answers and !bang searches tightly integrated into my favorite sites.
Continue reading "Private Searching on Your Phone: DuckDuckGo's Mobile Apps" »